Helping You Keep More Of Your Homes Equity

We do this by offering a better alternative to paying 6%* to a listing firm. In short, if you let us help you purchase a new home of equal or greater value to your current home we'll sell your current home free of our listing fee**.

For an example of what that means in savings on March 31, 2017 we sold a town home in South Raleigh for $176,900 – our clients received a $4,245.60 check from our firm a few days after closing on the purchase their new home.

Click Here For A Free Home Valuation Report

So how EXACTLY does this work?

Here's another example. Let's say your home is valued at $250,000. We charge a 4.8% listing fee to be split evenly between our firm and the buyers agent firm. In our example this comes to $12,000 being divided equally or $6,000 per firm.

We find you a home in a lovely neighborhood listed at $300,000 and and your offer is accepted. When that home closes we send you a check for the $6,000 that was paid to our firm when we sold your previous home.

Now, if we help you buy a home first and close on it we'll receive our compensation from the seller of your new home. When we go to list your existing home for sale our exclusive listing agreement will state that you'd only owe 2.4% to our firm which would be paid directly to the buyers agent firm upon closing. We would have already been compensated upon the purchase of your new home.

If you don't purchase a home with us and just need us to sell your home we charge 4.8% with the commission being split evenly between our firm and the buyers agent firm.

We're a Full Service Brokerage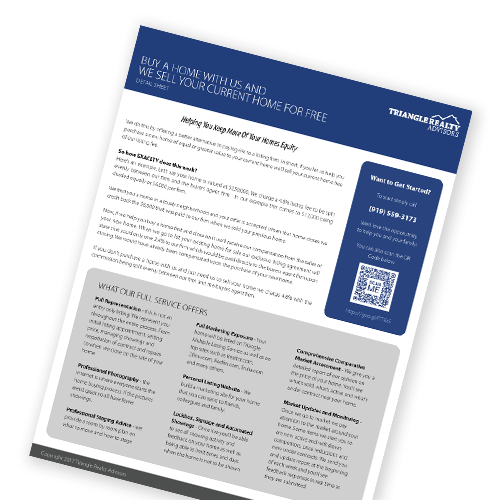 We don't skimp on our listings. We give every home the same care and diligence it requires to ensure it sells for top dollar as quickly as possible. To see what our service offering entails please download our detail one sheet.

Interested?

To get started click on the button below so we can begin determining your current home's present value as well as have a conversation on your future plans. There's no obligation or risk in receiving your FREE Home Valuation – simply click on the button below.

Click Here For A Free Home Valuation Report

Note: This is not intended to solicit property currently listed for sale.
* It's important to note that all commissions are negotiable. There is no such thing as a standard or industry rate.
** A real estate transaction typically involves a commission being paid to the sellers agent / listing firm and the buyers agent firm. When using Triangle Realty Advisors to purchase your next home of equal or greater value of the home that we help you sell we will refund our side of the commission earned after the close of the purchase of your new home.